Click on the following links for more information:


Boundary Waters Canoe Area
BWCA info, wildlife, trip routes, photos...
Canoe Trip Outfitting
all our packages, rates, menu...
Non-Profit Groups
discount packages for scouts, churches, schools, clubs, High Adventure Scout Trips, and more...
Boundary Waters Fishing
trips, tips, tackle & more...
Guided Trips
the best way to go...
Quetico Trips
information on trips into Canada...
About Us
who we are, directions to our base...
Contact Us
talk to our outfitting staff
For More Information Call:
218-365-3466
1-800-777-8574
Good to Know...
It is important to note that BWCA entry permits are reserved on a first come, first serve basis so the earlier you reserve your trip the better chance you have of securing the best entry point.
About Us
Boundary Waters Outfitters (formerly Timber Trail Outfitters) has been sending people into the wilderness area now known as the Boundary Waters since 1939. Our lakeside resort is located right on the edge of the Boundary Waters Canoe Area and is an ideal place to begin your wilderness adventure.
Having canoed, camped and fished the vast majority of Minnesota's Boundary Waters and Canada's Quetico Park we are well equipped to guide you through planning your wilderness canoe trip. Ely and the Boundary Waters is where we make our home; we are passionate about what we do and hope to be able to share our experiences and knowledge with you when visiting this magnificent place. The Boundary Waters Canoe Area...see it for yourself...the wilderness is waiting.
We also have a full-service lakeside resort - Timber Trail Lodge. Boundary Waters Outfitters and Timber Trail Lodge are located seven miles outside of Ely, Minnesota on a chain of four interconnected lakes. The resort offers lakeside cabins ranging from one to six bedrooms in size. Across from the main lodge is our canoe outfitting headquarters where we plan, pack and assist customers heading into the wilderness.
Our resort and outfitting facility is one of the best in the area and has been featured in multiple newspapers, magazines and television shows. The most recent is happening this year on PBS who is filming a documentary series on Adventure Lodges of North America.
For a true wilderness experience you will remember for years to come plan your next vacation with Boundary Waters Outfitters and Timber Trail Lodge. We are here to help you make the most of your Northwoods experience.
Bill Forsberg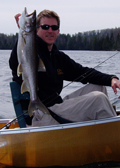 Mission Statement

Boundary Waters Outfitters is full-service canoe trip outfitter committed to providing our customers with the best in GEAR, FOOD, and SERVICE. We operate as a small, attention-detailed company and believe in a hands on approach and we, the owners, are involved in every aspect of your trip. We are dedicated to our mission; that is why we spend quality time with you to understand all your vacation wishes and needs. We believe our service, equipment and facilities are unsurpassed in quality and we pride ourselves on the relationships we develop with our customers and our long and growing list of repeat visitors.

Our goal is to provide a memorable wilderness experience to everyone who passes through our door.
Above: second generation owner Bill Forsberg, wife DeLana & Black Lab Bodie
out for a paddle


Directions to
Timber Trail Lodge & Boundary Waters Outfitters
Timber Trail Lodge
Lakeside cabins and full service resort.
visit our website:
www.timbertraillodge.com
(This link will open a new browser window)
web pages:
Boundary Waters Outfitters in Ely Minnesota home page ▫ About Us ▫ Contact Us ▫
Boundary Waters Canoe Area ▫ How to plan a Trip ▫ BWCA Entry Permits ▫ Boundary Waters Canoe Routes ▫ Fishing ▫ Wildlife ▫ Photo Gallery ▫ BWCA Rules
Canoe Trip Outfitting ▫ Outfitting Specials ▫ Kevlar Explorer Package ▫ Ultra-Light Canoe Package ▫ Partial Outfitting ▫ Non-Profit Group Packages ▫ Family Canoe Trips ▫ Fishing Trips ▫ Guided Trips
Trip Menu ▫ Overnight Accommodations ▫ Transportation ▫ Reservations & Deposits
Quetico Trips ▫ RABC Information ▫ Links
A word from Boundary Waters Outfitters
Thank you for visiting our website. We at Boundary Waters Outfitters are dedicated to our mission and to providing quality Minnesota Vacations to all who visit us here in the Northwoods. It is our pleasure to serve you in anyway we can, whether it is planning a BWCA canoe trip, arranging a stay in one of the lakeside cabins at our full-service resort or helping you purchase just the right piece of gear for your next adventure. Ely Minnesota and the Northwoods is our home and we are eager to share it with anyone who has the desire to experience all it has to offer. With so much to see and do...from fishing, to exploring, to sunsets, the wildlife, to all the little canoeing and camping tips we have picked up over the years, we are here to help you make the most of your Boundary Waters vacation. Thanks again for visiting our website and please let us know how we can help you with your Boundary Waters needs.
sincerely,
-Boundary Waters Outfitters owners and staff.